Freelance, Web Hosting
I have been using Hosting Matters for web hosting before I new how to float a <div> and despite their wonderful service, great pricing, and intuitive user interface, I have never liked their mail clients. Besides the somewhat confusing log-in url, the landing page is downright confusing (for me to explain to clients).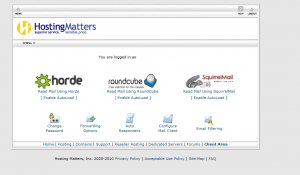 Once you log-in you are brought to an admin page, which you can't bypass. You can resest your password or set your autoresponder here and most importantly you can access your email. Yes, each time you log-in you have to pick again your mail client.