Client Story: KaramFoundation.org.
An amazing non-profit organization that provides much needed supplies to those affected by the war in Syria.
Enter Ironman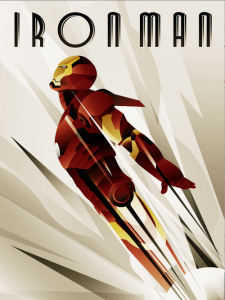 Backstory:
A politically active singer partnered with Karam Foundation; dedicating the sales of his newest album to their cause.
The Plot:
I received a very concerned email from the owner of a website I helped build and currently host. The singer was apparently a cousin of a REAL Hollywood celebrity. That celebrity cousin was going to share the website in a few days. After reading the email I wasn't overly concerned – people exaggerate after all. I assumed it was going to be "that guy, from that movie." Someone who's filmography was an extensive list in background characters, not the first to die in an action/horror flick, but definitely not hero material.
She had some legitimate updates to make, and I busied myself with those while watching the email chatter as this progressed through the week. Who was going to take a moment away from the red carpet to share a website built in the "dirty south?" I quickly found out Robert Downey Jr. is who!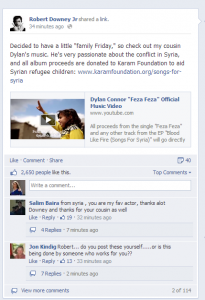 I staked out his Facebook Fanpage, frequently checking for the post of the century. It came on Friday morning, a "Family Friday" post with a link to the singer's Youtube Video and to the singer's page on Karam's website. 
The Results:
I watched the Google Analytics Real-Time tracker as visitors started rolling in. As expected, most stayed on the page RDJ had linked. Others branched out – visiting the board of directors page (vetting the organization before donating), and then onto the projects and donation pages deeper within the site.
After it was all said in done, the site had more visits that day than it usually gets in one month. The Facebook post itself had 424 comments, over 13 thousand likes, and 271 shares. Not bad for a days work.
Most of the comments were relevant to Syria, commending RDJ for sharing this subject, or declaring themselves as past or present citizens of the war torn country. I had been worried that due to RDJ's typical post archetype (fun and superficial) his fanbase might not respond to the more serious post.