I have been using Hosting Matters for web hosting before I new how to float a <div> and despite their wonderful service, great pricing, and intuitive user interface, I have never liked their mail clients. Besides the somewhat confusing log-in url, the landing page is downright confusing (for me to explain to clients).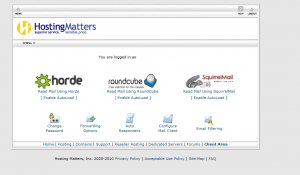 Once you log-in you are brought to an admin page, which you can't bypass. You can resest your password or set your autoresponder here and most importantly you can access your email. Yes, each time you log-in you have to pick again your mail client.
Each of the mail clients offers something different, Squirrel Mail gives you that 1980's retro vibe while Horde is channeling Microsoft Outlook or Gmail. Roundcube is my favorite of the bunch. Simple clean interface that lets you save your contacts, add folders and send mail. It's OK, it sends mail well and looks nice while doing it. It is what I recommend to clients, but I have always felt guilty doing so, because I know if they are using the web interface, they are getting the short end of the stick in the email world.

Enter GMail, more specifically Google Apps.
Google Apps lets you use the Gmail interface with YOUR domain. How does it work?
Purchase your domain and hosting
Sign up for Google Apps (Free or Business)
Upload the HTML verification file to your hosting server
Change your domain's MX record
It's that easy! It gives my clients  the power of Google Apps: Gmail, Docs & Calendar and it bypasses the sub-par standard hosting email. Best of all, for the small client, (1-10 addresses) it's free! Email syncs with your smartphone, desktop email client like Microsoft Outlook, or just use the Gmail interface.
Where does GMail really shine?
Besides looking better, and providing a better interface, is GMail really all that much better than the standard email client that comes with hosting providers? I'd say yes.
GMail acts as a fully developed email client comparable to a Microsoft Exchange Server. Mail is stored on the GMail server, but synced across all of your devices. Google Docs can be viewed and edited by team members simultaneously and scheduling meetings is easier than ever with the availability feature. Google Apps Business does away with all advertising and gives you the powerful Google App Sync which fully integrates GMail into Microsoft Outlook.
Some of my favorite GMail Gems:
Attachment Reminder

If your email says you were going to attach something and don't, GMail will alert you, saving you those embarrassing "where is the attachment" replies.

Undo Send

Available in the Labs, Undo Send lets you cancel a send within 5, 10 or 30 seconds after pressing send.

Drag & Drop Attachments
Email + Chat Searching
As a developer and hosting provider for the small business I must say thank you Google – you have really outdone yourself this time!