Domains, Web Hosting
Where were you September 10th, 2012? If you are like many of GoDaddy's customer's you were sitting at your browser hitting your refresh button over and over again while simultaneously watching the trending #GoDaddyCrashes topic on Twitter.
Sometimes being one of the masses can be a liability. Instead of safety in numbers you are one of the expendable many. Rumor and report has it that hacker's took down GoDaddywith a distributed denial of service attack (DDoS). Why? Perhaps because GoDaddyannounced it's support of the US Congress's bill SOPA, anti-piracy legislation, which caused GoDaddyto come under fire from activist groups. While some of those groups were hackers, GoDaddyrenounced their position on SOPA months ago. So, why now? (more…)
Freelance, Web Hosting
I have been using Hosting Matters for web hosting before I new how to float a <div> and despite their wonderful service, great pricing, and intuitive user interface, I have never liked their mail clients. Besides the somewhat confusing log-in url, the landing page is downright confusing (for me to explain to clients).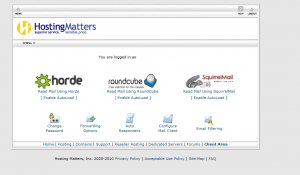 Once you log-in you are brought to an admin page, which you can't bypass. You can resest your password or set your autoresponder here and most importantly you can access your email. Yes, each time you log-in you have to pick again your mail client.