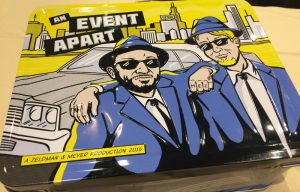 In the early 2000's, when I was a young web developer I found "A List Apart." The blog answered my first hard question as a web designer worried about universal accessibility. How do I create a dropdown menu without Flash or JavaScript. I read the Suckerfish and Son of Suckerfish tutorials, successfully created my menus and was hooked. I continued reading, learning and expanding my horizons with new CSS methods.
Over a decade later, when I got to pick my first professional conference, there was no choice, my response was automatic. I was going to An Event Apart!
Besides the sweet lunchbox, I came home with my mind once again expanded.
As a web developer, much of my career has been spent in relative isolation. My coworkers are typically marketing gurus, writers, editors, a photographer or two and of course, other print designers. Creatively, this is always a boon. My designs are enriched by the feedback I receive and creating alongside the writer and photographer mean shots are tailored to the design, copy is written for the space and the end result is wholly better than it would be otherwise. But, when learning about new web standards, I only have Google and Stack Overflow to help me find new solutions. I have been able to tease much out of viewing the source-code of another website that I admire, looking at the JavaScript library they use, even QA'ing someone else's code is an excellent way to pick up new methods.
But, there are always the unknown unknowns. Things I did not know I should be Googling to learn how to do. Sitting in the conference room with giants of the web design world, pioneers in the industry, I learned about practical applications for the sleek new HTML and CSS properties being rolled out by the W3.
I even had lunch with Eric Meyer!